Malware is not a new name in computer security world, but the year of 2013 broke the record of malware creation. Almost 32% computers across the world found infected with malware. If we briefly glance at the situation of emerging malware in 2013, there were seen 82,000 different malware strains according to Panda Lab report. In this respect, android platform remained the primary number target for cyber criminals. Nearly two million android base malware was created in the year of 2013. The other report findings are discussed as below so; let us have a look upon them.
Top Findings:
Trojan was the biggest contributor in 2013 with 71.11% of all new malware.
The growth of new malware strains rose to 13.3% versus 9.67% in 2012 year.
China remained the most infected country in 2013 with 54.0% ratio.
Sweden was on the last position with least malware-infected countries.
20% of all malware were created in the year of 2013.
The most popular virus families were Sality and Xpiro.
30 million new malware variants were created in 2013.
Malware Category:
The data collected by the lab showed four main categories of malware that were responsible for malware infections. Trojan malware was remained on the top with a 78.97% ratio in spreading malware infection. In 2011 and 2012, the ratio of malware infection caused by Trojan was 66% and 76% respectively.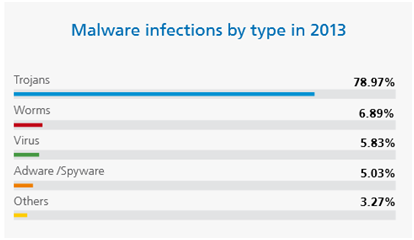 Most Malware Infected Countries:
If we look at the most infected countries, then China with 54.03% and Turkey with 42.15% remained in the first two positions. The remaining countries like Uruguay (33.64%), Chile (33.51%), Spain (32.72%), and Colombia (32.22%) were also found malware infected countries.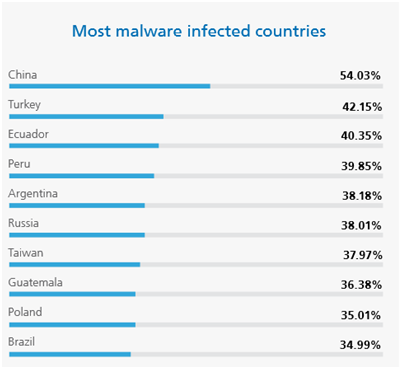 Least Malware Infected Countries:
There were 9 out of 10 European countries found with least malware infected countries. Sweden and Norway were least infected countries, while other countries out of these ten countries were found below average in malware-infected countries.
| | |
| --- | --- |
| Countries with least malware infections | Percentage |
| Australia | 26.84% |
| Austria | 27.69% |
| Canada | 27.82% |
| USA | 28.96% |
| Venezuela | 29.83% |
| Hungary | 30.96% |
| Mexico | 31.00% |
| Italy | 31.47% |
| Costa Rica | 31.50% |
2014 Prediction about Imminent Threats:
New malware variants can hit the market in 2014 that will compel to implement strong security parameters in organization.
Java vulnerability will remain in 2014 due to countless security flaws and its high usage in the world.
Users will fall victim to cyber culprits due to social engineering techniques.
Android platform will remain on the top in malware spreading.
Ransomware malware will be on the top position in 2014 than Trojans and Botnets.
Corporate culture has to think beyond traditional antivirus product.
Hackers can target internet-connected device (Internet of Things) for attack purpose.